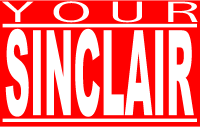 CONTENTS JANUARY
85
---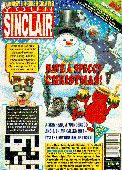 Christmas greetings, Spec-chums! Welcome to issue 85 - the Christmas issue. You'll probably notice a new ad in this ish - one with Games Master written all over it. Why are we advertising Games Master the telly programme? Well, we're not. Future, home of YS, has got a brand new mag that's edited by none other than Jim Douglas. Any bells ringing? Well, there should be - he used to edit Sinclair User! Also on the team is another old Spec-chum - James Leach. (Don't know where they picked him up from!) With that background it has to be a beaut mag.
That's enough about other mags, back to YS. (Hurrah!) This month we've got all the usual games and letters and techy bits plus something very different altogether. It's a feature all about a software house. Jim Scott from Beyond Belief came along to the Shed with a basketful of games and news and photos of his office in Higham Ferrers, Northamptonshire... Crikey, I thought Jonathan's desk was untidy!
You can read all about his visit on page 41, but before you do that the whole YS crew would like to wish you an incredibly happy Christmas and a decidedly spiffy New Year.
Goodbye
Lots of love,
Linda

---
THE REGULARS
Jolly, snow-laden cover
The YS Christmas Collection
Pssst
Charts
Meet the Shed Crew
Amazing Alternative/YS compo

Win absolutely every single Alternative game ever and a big bag to carry them home in. Double hurrah with holly berries on it!
Letters
Tipshop
Adventures
Extra-length festive Pitstop
Ernie
Steve's Programming Launderette
Spec Tec Jr
Public House

Spec Tec Jr pulls his hat over his eyes, loads up his pockets with festive goodies and takes a trip to visit a variety of Picos.
Behind the Scenes at Beyond Belief

Beyond Belief are one of the country's newest software houses. We talk to Jim Scott about games, games, more games, a few more games and the Speccy scene. Catch up on BB's latest releases, find out what happened to all those games we reviewed but you haven't seen in the shops and find out once and for all what all this W Scribo nonsense is really about!
SAM Centre
Crossword Clues/Back Issues
Killer Kolumn from Outer Space
Santa's Phone Number
CRIKEY, IT'S THE GAMES SECTION!
REVIEWS
Football Manager 3
International Tennis
Hands of Stone
Kung Fu Warriors
Blazing Thunder
Sidewinder 2
REPLAY FEATURING:
Doc Croc's Outrageous Adventures, Super Monaco Grand Prix, Santa's Xmas Capers, Dizzy 6, Jimmy's Super League and Neighbours.
---
NEXT ISSUE ON SALE JANUARY 5TH
---


Copyright ©1993 The Y-Nots, HTML version copyright ©1998 Simon Cooke