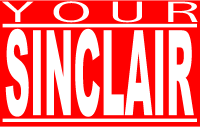 CONTENTS NOVEMBER
83
---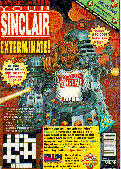 This month's issue is a treat for all you Dr Who fans. We've had tonnes of fun putting it together and I hope you enjoy reading it. I've made a few changes this month. Firstly, Joystick Jugglers have disappeared cos it seemed a bit daft just having me and Jon in our own column. Dave Golder's been hassling me for ages to let him be in Jugglers, and I always felt a bit bad about leaving Craig Broadbent and Tim Kemp out too!
Another change has occured within the pages of Spec Tec. Adam Waring's taken off in fear of his life and Spec Tec Junior, Simon Cooke, is very comfy in Ad's old chair. Adventures is down to a page this month cos I wanted to finally get rid of loads of Input Output ads that I've been hanging onto for ages. Check out this month's Input Output, there really are some bargains in there. Oh, and Haylp! will be back next month too! I'll go now and let you lot read the ish!
Goodbye
Lots of love,
Linda

---
THE REGULARS
Absolutely terrifying cover
The Magnificent Seven
Pssst
Meet the Shed Crew
Charts
SAM Center
Letters
Tipshop
Adventures
Comic Strip
Flip!

The Killer Column from Outer Space takes a break from bringing you the latest news and goss from the SF world to sit down and watch a few vids. From An Unearthly Child to The Curse of Fenric, Dave Golder presents the complete buyer's guide to Dr Who videos. While just across the page, we take a look at a selection of new Dr Who books. The publishers said they were stories too big to fit the screen. We run 'em under Flip!s gimlet eye and give our verdict.
YS/Alternative Dr Who compo

We've got 12 copies of Dr Who - Dalek Attack plus two complete video box sets of the Dr Who years to give away. Hurrah!
Input Output special

Get the complete Speccy gamesplaying kit from our specially extended Input Output. Hundreds and hundreds of games at prices your grandmother wouldn't sneeze at.
YS Warehouse
K9's favourite dog bowl
REVIEWS
Popeye 3
Bully's Sporting Darts
Sword of the Samurai
PREVIEWS
Dr Who - Dalek Attack
Crystal Kingdom Dizzy
Slicks
International Tennis
Robin Hood: Legend Quest
Wrestling
REPLAY FEATURING:
Stun Runner, Race Pack 4 and Badlands
PLAY IT!
The turny-pagey-adventurey-sort-of-thing game returns!
---
NEXT ISSUE ON SALE NOVEMBER 5TH
---


Copyright ©1992 The Y-Nots, HTML version Copyright ©1995 Simon Cooke